SimTech T-SEM 300 and 400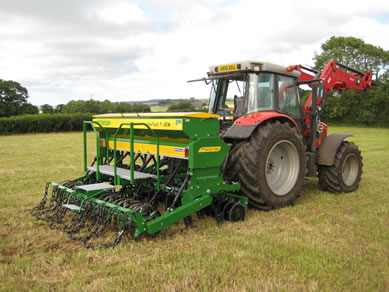 SimTech T-SEM 300
The simplest and most versatile drill on the market at an affordable price.
Based on the renowned New Zealand pasture slot-seeder, here is a European drill built with the varied demands of the modern farmer in mind. You can sow any seed into any surface – clovers, grasses, brassicas, cereals, pulses, maize and all mixtures into grassland, stubbles, ploughed and/or cultivated land and direct into standing cover crops.
A row of straight discs open the slot in advance of three rows of spring-tine mounted Aitchison boots. These prepare an upside-down T-slot, a perfect seedbed for both germination and root establishment. Behind the tines is a Springflex roller which passes between the rows and a chain harrow which crumbles and levels without over-firming the slot itself.
The mechanical Aitchison seedbox with its unique sponge seed-metering system completes this simple answer to all your sowing needs.
Click here to see how The Aitchison Seed Metering System works
SimTech T-SEM 300 & 400A
The wider row version is designed for those who seek to direct-drill in a purely arable context. With the 18.75cm row spacing it will pass through any amount of trash, whilst costing and weighing even less than the standard multi-purpose version.
SimTech T-SEM Mix
Where both seed and fertiliser are required, the T-SEM Mix with its double hopper is an ideal option. A reduced size seed hopper is matched by a fertiliser hopper with an independently adjusted metering mechanism, consisting of 2 contra-rotating rubber rollers.